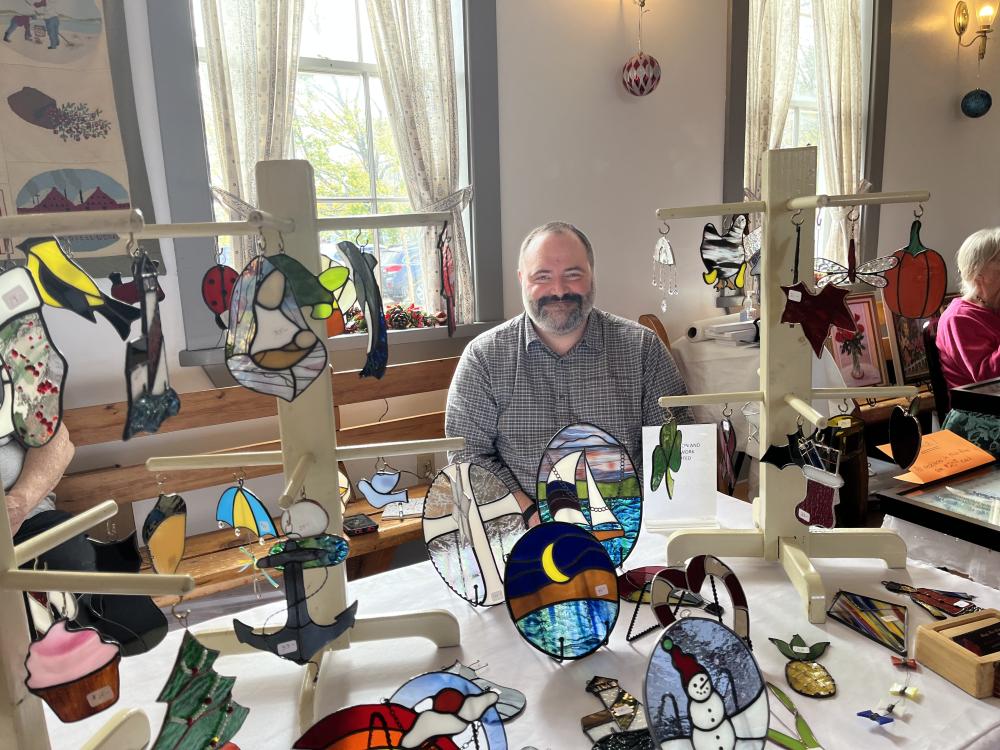 Getting Crafty: Local Artists Showcase Their Art at Holiday Craft Fairs
[ad_1]
From sweaters to suncatchers, local artists sold their wares at the Wareham Historical Society Holiday Craft Faire and First Congregational Church Holly Fair on Saturday, November 12.
Being the first holiday craft fair since the pandemic, Wareham Historical Society president Angela Dunham said she was happy to see so many vendors and community members in attendance.
"I'm very pleased with all the talented sellers here today, even with the weather," Dunham said.
The sun has broken free from the clouds to shine through the stained glass window of Wonky Paw Creations suncatchers.
From dolphins to cupcakes, there were handmade stained glass creations for every customer's decorating taste. Artisan Jesse Dubuc of Wonky Paw Creations has transferred his skills as a blacksmith to the art of stained glass, but with a keen attention to detail.
According to Duboc, once the pattern is determined, each piece of glass is shaved to fit the other pieces.
"It's like doing your own puzzle, you have to be precise," said Dubuc.
Depending on the size and pattern of the piece, creating them can take anywhere from a few weeks to several months.
Wonky Paw Creations hopes to start offering art classes.
Mary Nyman of Seascapes, Etc said she was grateful for the opportunity to share her crafts with the community.
"I'm lucky to be able to do something creative during the pandemic and these severe times," Nyman said.
A resident of Wareham, Nyman has been bringing her handmade jewelery and paintings to craft fairs for 20 years. She participated in fairs in Cape Cod, Fall River and Rehoboth. Nyman creates earrings and necklaces from natural stones such as agate, jasper, lapis and labradorite.
In addition to the Holiday Craft Faire, the Historical Society also offered a gift basket raffle to raise funds for a scholarship for a senior from Wareham High School pursuing a career in education.
The First Congregational Church's annual Harvest and Holly Fair has also been a hit for sellers, buyers and the church.
West Wareham salesman Janis Johnston recently found a creative use for the clothesline. Johnston uses the rope to create baskets, bowls, placemats, and even elongated coasters made with room to place a snack that Johnston considered "cup mats."
"I got the idea from Pinterest," Johnston laughed.
This was the first time she had attended a craft fair exhibiting rope crafts, although she had attended other fairs featuring quilts.
Carver's Josy Shurtleff also discovered a creative artistic medium for his paintings. From wooden slabs to metal saw blades, Shurtleff's paintings live on everywhere but a standard canvas.
"My husband suggested I try painting on shingles, like house shingles, and it took it from there," Shurtleff said.
Shurtleff paints animals, especially birds, as well as landscapes.
The fair offered a raffle for gift baskets, a silent auction for 7 golf courses, as well as a homemade lunch and treats to help raise funds for the church.
[ad_2]
Source link