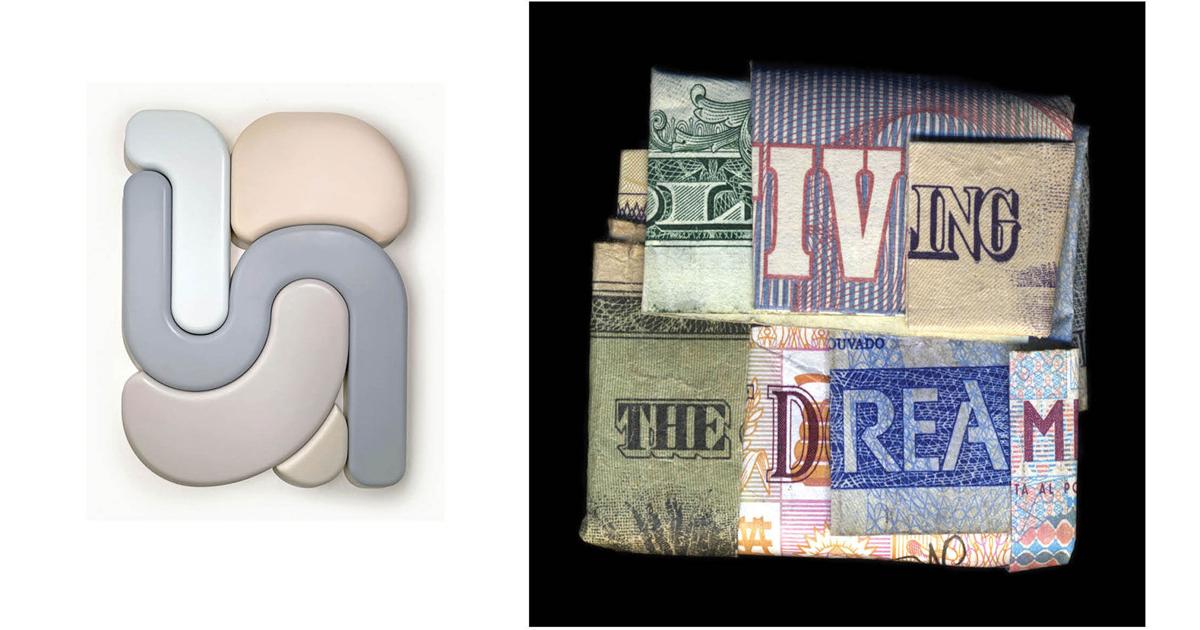 Bobby and Tinney Contemporary Team Up for A Fluid & Emphatic Now | Visual art
[ad_1]
The downtown Bobby Hotel is perhaps best known for its rooftop bar and dog-in-residence program. But a new partnership with art gallery Tinney Contemporary makes the hotel a destination for art lovers who want to experience contemporary colors, shapes and textures between their pedal rides and hangovers. Tinney schedules quarterly exhibitions at the hotel, and The Collection at Bobby's inaugural exhibit is a victory for both the gallery and the hotel.
The fantastically titled A fluid and emphatic moment is organized by Tinney's gallery owner and curator, Joshua Edward Bennett. The exhibition is a mostly abstract affair, with works that showcase the unique materials from which they are made. Bennett is also an artist whose sculptural creations often use palettes and materials that viewers are accustomed to seeing in commercial signage applications. Bennett curated a list of designers who are making equally unique choices about the art that could be made, the colors he could display, and the textures he could adopt. In an age when so much contemporary art focuses on content, A fluid and emphatic moment reminds viewers that form will always be the cornerstone of the form-content-subject trio of art components, and he baptizes a new space in which to experience the pure pleasures of form and space, tone and texture, color and composition.
Some of my favorite works in the exhibit are the folded paper and coin photographs by New Orleans-based artist D-TAG. The works remind viewers of the beauty of the intricate aesthetic of the unique symbols, codes, portraits, landscapes, colors and textures of paper money. The artist folds various bills in a practice that reads like an obsessive abstract origami. D-TAG folded banknotes are also combined and stacked. Through this process, he emerges unexpected conceptions and phrases that read like secret messages: "Living the Dream", "Cash Rules Everything Around Me", "The Future Is Bright". D-TAG's images are unique, and the text he reveals by rearranging and recombining the letters on the invoices is refreshingly ambiguous, ranging from capitalist critiques to ambitious claims.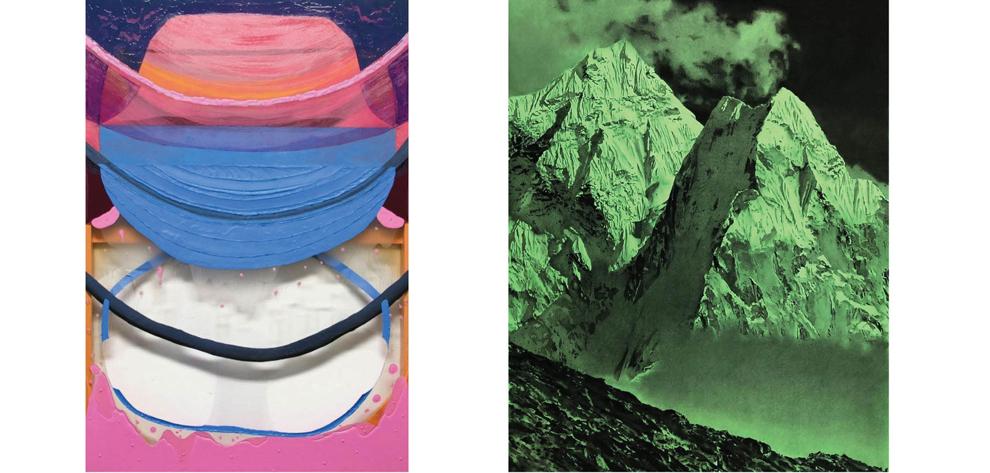 Viewers will be forgiven for thinking Andy Mister's magnificent images of Mount Everest are photographs. These extremely detailed works look like images taken through color filters or digital photos to which transparent color layers have been added via Photoshop. In fact, Mister uses carbon pencil, charcoal, and acrylic to painstakingly recreate photographic images he finds in magazines and textbooks, and in random corners of the internet. Taken out of their editorial and historical context, Mister's copies actually deal with the act of copying, and both the ethics and aesthetics of image reproduction. But the reason viewers might delve into the more meta themes of Mister's images is that they are large – "Everest (Cyan)" and "Everest (Permanent Green Light)" are both mounted on panels of nearly 5. feet tall – and They are beautiful. I prefer the black and white images to be a bit balanced on the cold side, and "Everest (Cyan)" turns the cold up to 11, making the impenetrable, icy face of the world's highest peak in icy tones that crackle with the the threatening brutality of silent isolation.
Francesco Lo Castro's works like "Amalgama" and "Deep Zero" read like colorful, plump but graceful sculptures. Or maybe it's soft chubby paints? These works are in 3D, but they are also attached to the wall. They occupy an ambiguous space between sculpture and painting that is both playful and provocative. These abstract works are made up of arrangements of smooth, curved, and swollen shapes that are colored in muted tones of pinks, blues and lavender. The pieces are all form-oriented – they're made from thick, dense MDF, but they look so soft and smooth that viewers will have to resist the urge to snuggle up against these unique pieces.
I want to hug Lo Castro's wall sculptures, but I want to bite into Elise Thompson's multimedia works on paper and vinyl. Thompson's paintings are about layers – pictorial and personal. She explores these themes by combining materials like clear vinyl and clear washes of acrylic paints to add layers to her surfaces while allowing elements to shine through and layered colors to combine into unique hues. But she also uses heavy drips of thick paint and even attaches elements like glass beads to obscure and distort other elements, gestures and spaces. It's not exactly a palimpsest practice, but it feels like an archaeologist looking at these paintings, wondering about their origins, trying to scrutinize the different versions of a work that might have existed before Thompson applied his last ones. layers. These are paints for people who love to paint. They're full of vibrant color in unexpected combinations, applied in drops and drops – thick layers of cake frosting and delicate bursts of sheer tones.
[ad_2]
Source link